Description
Bring the Universe Home and Help Your Baby Sleep Well During Night With A Star Projector Night Light
It's important to reassure your children before they go to bed. Night time can be scary. It's dark, silent, and far from fun. That's where the right night light projector can help significantly in making bedtimes fun and safe for all ages. Perfect Valentine's day gift ideas for women, girls, and kids, especially for your babies.
And what could be better than having stars projected on your ceilings and walls? This is a 3-in-1 starry night light projector, the star/ galaxy/ space/ planetarium projector lets you bring the universe home, the adjustable night lamp helps your kids sleep well during the night. With a built-in wind-up music box, this unique night light will be one of the most warmhearted Christmas or Birthday gifts for your kids or friends.
Place your star projector lamp in the room and watch the stars dance around you in multiple colors by 360 degrees rotating base, which will create a relaxing atmosphere at home.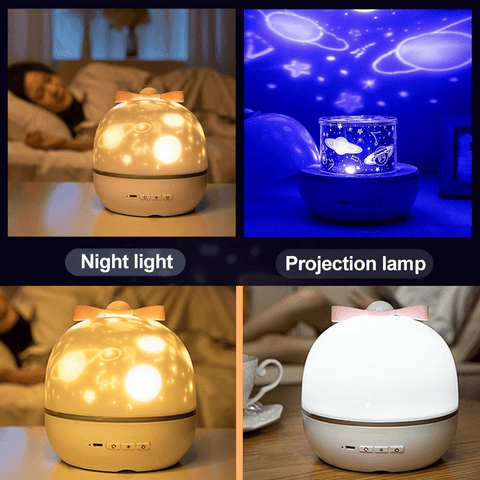 Features and Specification of Night Light Projector:
Sleep in A Dream World: The home planetarium projector has six beautiful pictures (films) to replace, including underwater world, running horse, the interstellar universe, birthday theme, and Christmas theme... so you can sleep in a dream world every night. Don't recommend putting it too far from the ceiling, and the closer to the surface the clearer the image gets.
Wide Application: It's a great romantic night lamp and decorative light, which is ideal for a baby's or kid's bedroom and for decorating weddings, birthdays, and other parties. The Relaxing Sky Starlight Projector Pot is an innovative light that projects starlight and moonlight around a room, thereby transforming the room into a relaxing sky-like environment at night. Furthermore, it is great for new moms to use when breastfeeding at night. It is a great gift for your sweethearts, babies, families, and friends.
Easy to Operation: Remove the inner cover and put back the outer cover, a table lamp it will be. Can select a single light or multiple color modes which will help to develop kid's imagination and creativity. If you press the rotation button, these lights pattern will 360 degrees clockwise rotation, it looks like they are walking on the wall! The built-in wind-up music box will bring you beautiful melody as well.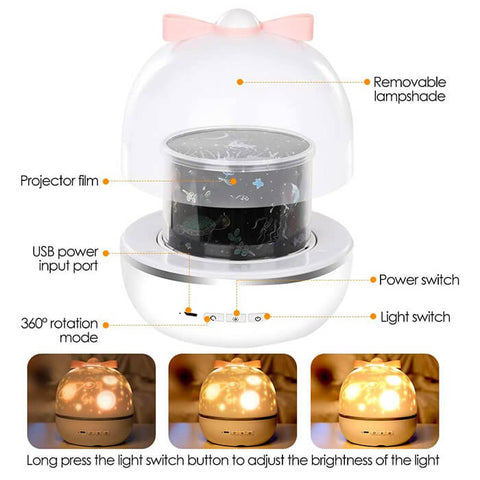 Specifications
Modes: Projector Night Light with Built-in Wind-up Music Box

Styles: 3 colors and 6combine modes, Constant light and gradient mode, 3 brightness, 6 different projector films

Product Size: 5.2 * 5.2 * 5.35 inches

Product Weight: 11.8 oz.

Material: Plastic

Power Supply Mode: Built-in lithium battery and USB port.
Button Function Introduction
Button A - Power Switch. Press this button to turn on/off the night light projector.

Button B - Light Switch. Press this button to change the light color conversion.

Button C - Switch on/off to 360-degree rotating mode.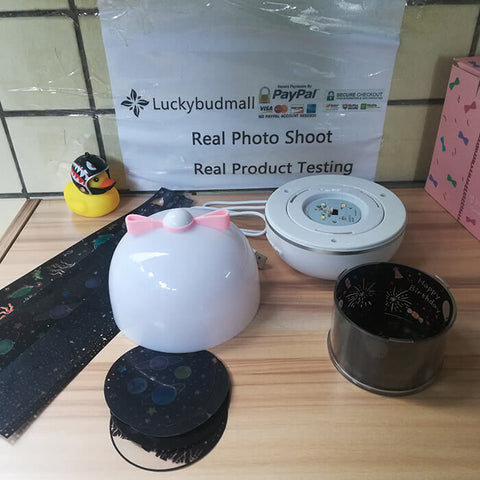 Package includes
1 x Star Projector Night Light

6 x Films (Star/ Galaxy/ Horse/ Birthday/ Ocean/ Christmas... will send the theme randomly)

1 x USB Cable

1 x User Manual